Tuesday, July 26, 2005
Well, I was perfectly happy with my Plain Box Atari Portable until
I put in the Star Raiders cart and found that the Video Touch Pad
didn't work in joyport 2. So I added the +5 volt connection to port 2
thinking that all it needed was some power. Nope still no go. Then
I added support for paddles 3 and 4 to port 2 and it worked!
For some reason paddle support is required to get the touch pad
to work - go figure. Then I found out that I couldn't get the
computer attack control or the shields to come up so I had to
add the difficulty switches for ports 1 and 2 which control those
functions. Whew!
So now I figured I'm finally done with this thing, yahoo!! That was
until I put in the Starmaster cart which is a Star Raiders clone and
in some respects even better than the original. In order to bring
up the Galactic Chart you have to toggle the TV Type switch (color
/black&white) so I added that.
Now I think I'm done. Yah sure, at least until I put in another game
cart I haven't played.
Rick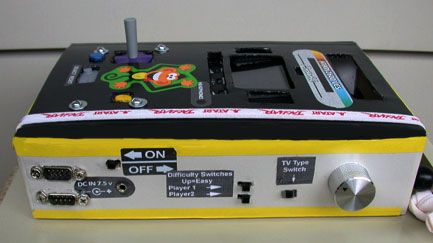 ----------------------------------------------------
Since my last entry, I added a few bits of hardware to my Plain Box Atari 2600. A paddle control, paddle fire button and two joystick ports. The top joystick port can also control a pair of paddles. So now I can play two player games that use two joysticks or two paddles! Cool. I think I'd better stop adding things because as you can see from the side view its starting to bulge in the middle!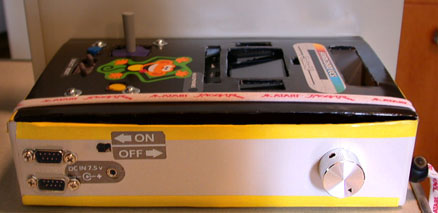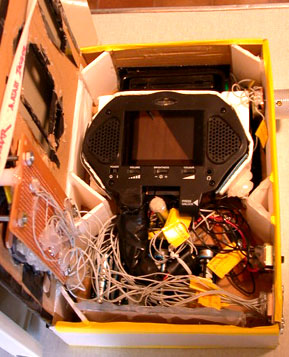 IT'S DONE!!! My 'Plain Box' Atari 2600 Portable. I decided building the official case was too much work for a first timer like me, so I took the inner box from an IOGEAR laptop usb card and used that. The display is an Intec 2.5" screen and the joystick is from parts of an old pc joystick. It has a DC in plug on the side below the on/off switch so you can run it from a wall outlet. It takes 6 AA batteries to run both the Atari board and the screen. You can play with or without the joystick handle because it unscrews from the pad but I actually prefer the handle for most games.
I started this project on 5/20/05 so it took me almost two months to complete. After a good amount of frustration but mostly fun I can finally say I did my first real elecronic hack.
Front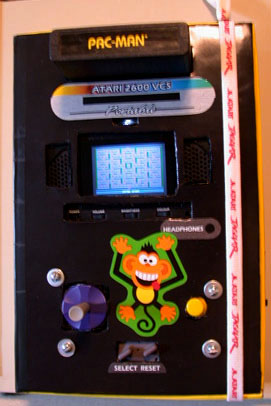 Back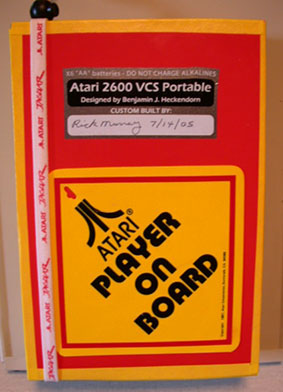 Open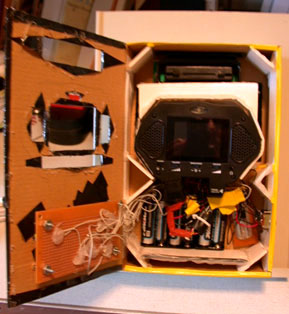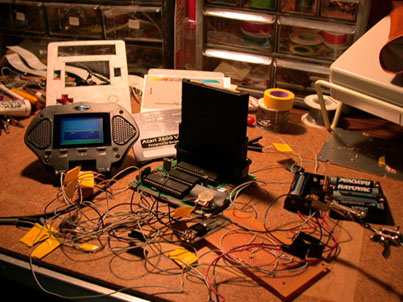 Well I shouldn't say it, it's really dumb to say it but I'll say it anyway: It's Allllllllliiiiiiivvvvvveeeeeee!!! A month and a half and one fried TV later I finally got video and audio to work on an Intec Screen Pad which I removed from its attached PS2 controller. There it is in the image above, Frogger actually on the screen complete with music! Now all I have to do is connect all of the joystick and paddle controls and then start making the case. You can see part of the case with some Atari lables in the background. Geezze, look at all those wires! My Atari 2600 Portable may soon be a reality. I'll put some more pictures up as I go along.
_________________________________________________________
Saturday, June 18, 2005
I decided to take some time away from astronomy for awhile and get back to another hobby of mine - hacking electronic stuff. Below is a picture of my latest project which is to build a portable Atari 2600. Below that is what it's supposed to look like when I'm done. Wish me luck!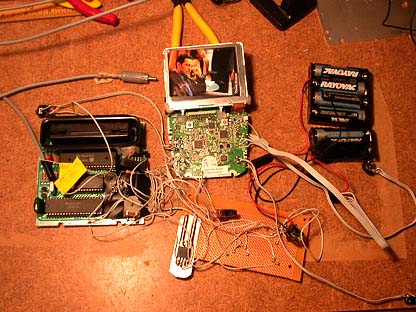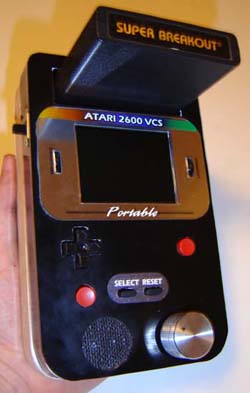 If you're interested in doing this yourself go here:
Hacking Video Game Consoles