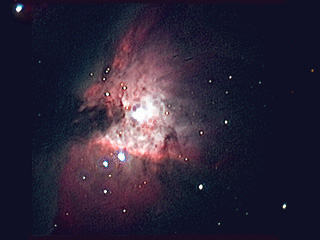 ©2006 Richard Murray
Hunting season is now officially open on the Orion Nebula and I bagged it just before dawn on 8/22/04. It was low on the horizon (about 25 deg altitude) and the sun was just about ready to brighten the sky but I managed to get in about 70 good frames.
It's nice to have this beautiful object back in northern skys after its long summer absence.
Techno Stuff:
8" SCT, Mogg 0.6 fr with extension for FL3.3, Baader IR filter, Toucam SC1.5 normal mode, Alt 25 deg, 10.5 sec x 90, 70 frames used, dark subtract, 5fps, Brightness 45%, Gamma 40%, Saturation 45%, White Balance Auto, Gain 55%, Processed in K3CCDTools, Registax, Photoshop