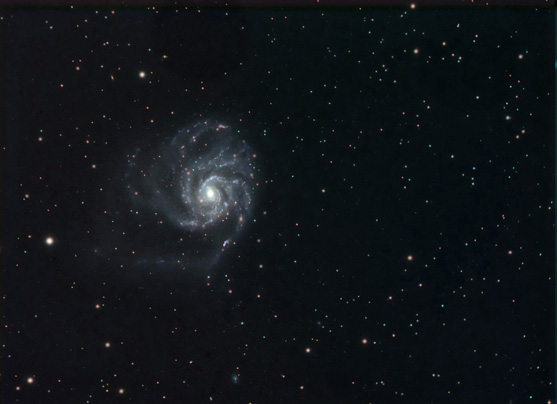 ©2006 Richard Murray
Full Size Image
Full Size Image With Enhanced Star Color
Techno Stuff:
4/16/07 ATK-16hr, Megrez 80mm APO at F/6 mounted on LX90 8" SCT, Luminance IR 12x300secs Binning 1x1, RG 6x300secs, B 6x360secs Binning 2x2, Manually Guided from LX90, Darks Applied, Registax3, Photoshop CS2, PixInsight
Notes:
One of my first color images for some time because I finally had several clear nights for a change. :>)
There are a couple of small galaxies in addition to M101. I think the small one directly below at the edge of the frame is NGC5477 and I'm not sure about the one located in the upper left.