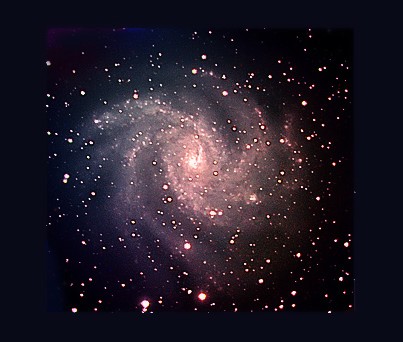 ©2006 Richard Murray
This is the first image I have taken in color using RGB filters. I used the black and white image below as the luminance layer and combined it with the RGB images in Photoshop. Since I had only a few color images to process I used multiple luminance layering for an LLRGB image to enhance color detail.
Techno Stuff:
LLRGB, 5/29/06, LX90 8" SCT, ATK-2HS, Taurus Mini Tracker, Baader IR, DSI Pro RGB Filters, Used 2 focal reducers in tandum - a Taurus .50 and a Mogg .60, Guided with Guidedog, No Darks, 5fps, RGB 5-7 frames each at 200 secs each, 75% gain, Brightness 50%, Gamma 0%, Sat 50%, Processed in K3ccdTools, Registax 3, Photoshop, Loreal, PixInsight, Astrowave.