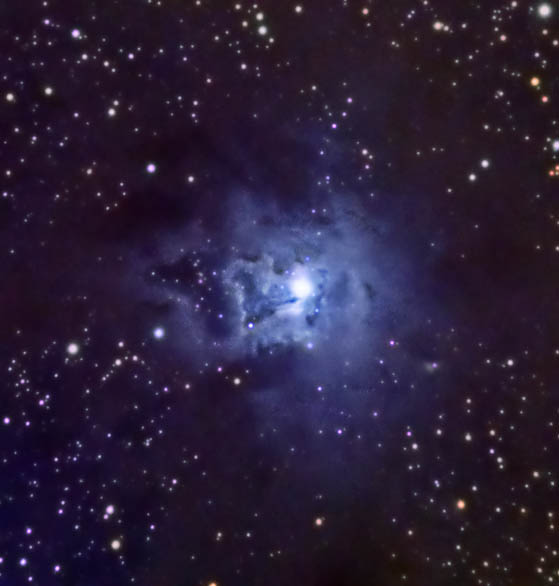 ©2007 Richard Murray
Full Size Image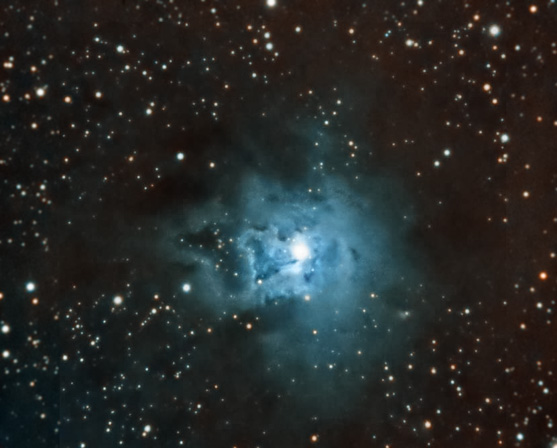 ©2007 Richard Murray
Full Size Image
Techno Stuff:
5/18/07 for Luminance and RG and 8/11/07 for B, Camera: ATK-16hr, Imaging Scope: Megrez 80mm APO at F/6, mounted on LX90 8" SCT, Luminance IR 11 minutes total with 1 min subs and 80 minutes total with 5 minute subs binning 1x1, Red and Green 20 minutes with 5 minute subs binning 2x2, Blue 30 minutes with 6 min subs binning 2x2, Autoguided with DSI Pro and PHDGuide from LX90, Darks Applied Luminance Only, Processed with CCDStack, Photoshop CS2 and PixInsight.
Notes:
I imaged the luminance, red and green frames in May but it took me until August to get some decent blue frames. The full size image is small because the blue frames had to be rotated almost 45 degrees to match up with the earlier images. But it all turned out ok in the end.
The second image is the same as the first but processed by combining the red and blue frame with a synthetic green frame along with the original luminance frame. Once this was processed in Photoshop, the top image was desaturated (color removed) and this was placed on top as another luminance frame to create what is called an LLRGB image.