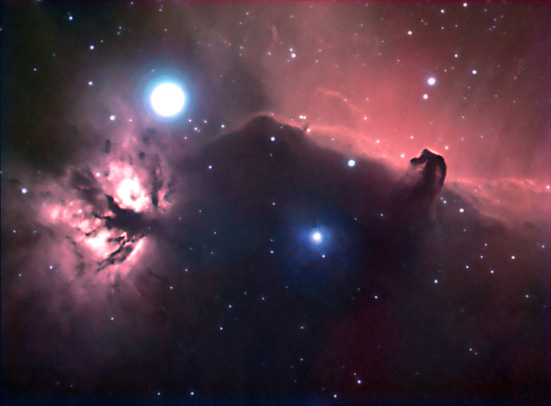 ©2008 Richard Murray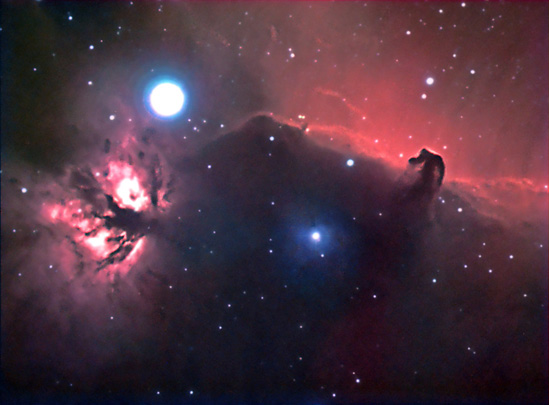 ©2008 Richard Murray
Notes:
Here's the color version of the image that was taken on Christmas night (see Ha black and white image below). This is lower resolution than I'd like because of the 2x2 binning and the moon being out but the colors did turn out better than I expected.
I used Ken Crawford's tutorial on combing Ha, OIII and SII filtered images using levels and cliping masks.
Click image for full size.
The second image was created using Peter's Photoshop Actions. I just took the top image and used the new action step 'Increase Dynamic Range'. That's all. I think it improved the image quite a bit. Clicking on the two images for full size will show the difference better.
Imaging Details:
Date: 12-26-07
Object: Horsehead Nebula (IC434) and Flame Nebula (NGC2024)
Telescope: W.O. 80mm Super APO
Mount: LX90
Camera: Atik 16hr
Filter(s): Astronomik Ha 6nm, OIII 14nm, SII 14nm
Exposure: Ha 4x10 min subs, OIII 3x10, SII 3x10, Binning 2x2
Processing: CCDStack, Photoshop CS2, PixInsight
Location: Burke Ave. Observatory, Three Rivers, Michigan