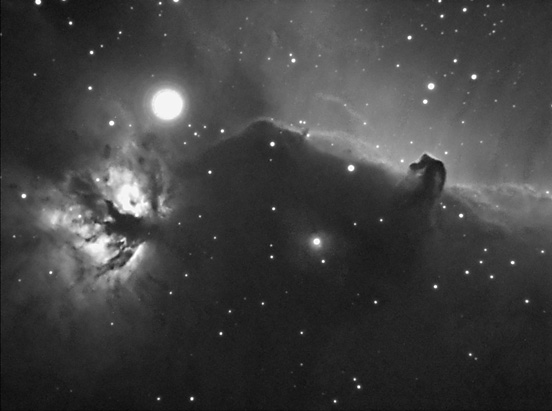 ©2007 Richard Murray
Notes:
I started imaging this on Christmas night. Clear nights have been so rare lately I have to go out whenever the skies open up. This was taken on a very bright night with the sixteen day old moon very high in the night sky. Only use of a narrowband filter could result in any kind of useful image so I used an Ha 6nm filter for the above image.
I also got some OIII and SII filtered images so in a few days I'll show the color version which should be fairly colorful despite that pesky moon.
Imaging Details:
Date: 12-26-07
Object: Horsehead Nebula (IC434) and Flame Nebula (NGC2024)
Telescope: W.O. 80mm Super APO
Mount: LX90
Camera: Atik 16hr
Filter(s): Astronomik Ha 6nm
Exposure: Ha - 4x10 min subs, Binning 2x2
Processing: CCDStack, Photoshop CS2
Location: Burke Ave. Observatory, Three Rivers, Michigan